To contact the Webmaster, visit the 'Contact Us' page and complete the form with the information requested. When completed, click Send.
© Website created by FCM Neal O'Connor exclusively for the USS Intrepid Former Crew Members Association, Inc. and its members.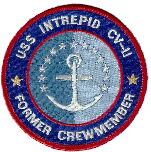 List of All Air Group Squadrons That Deployed Aboard USS Intrepid
This Page is Currently Under Construction
Air Group Squadrons that served aboard Intrepid
are now being researched and cataloged.
That list will be posted on this page as soon as it
becomes available.