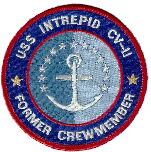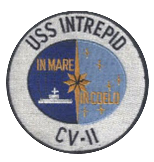 To contact the Webmaster, visit the 'Contact Us' page and complete the form with the information requested. When completed, click Send.
© Website created by FCM Neal O'Connor exclusively for the USS Intrepid Former Crew Members Association, Inc. and its members.

To our valued visitors:
The health and safety of our staff and visitors has always been our top priority. The Intrepid Museum is adhering to the mandates set forth by New York City on August 16 within Emergency Executive Order No. 225. All patrons 12 years of age and up must provide proof of at least one vaccination shot against COVID-19, as well as identification, before entering the premises. Visitors age 2 and up will be required to wear masks in indoor spaces within the Museum complex.
***
Fully vaccinated visitors will be permitted to remove their masks in outdoor spaces such as the pier and flight deck.
Please visit our website for information about how to show proof of vaccination and accepted forms of ID.
We are confident that abiding by these policies will help us provide the safest environment for our visitors, staff, volunteers and partners.
We are grateful for your support and understanding of these efforts and we look forward to seeing you at the Intrepid Museum soon.
Sincerely,
Susan Marenoff-Zausner
Intrepid Museum President
Intrepid Museum
Pier 86 | W 46th St and 12th Ave
New York, NY 10036
Visit us at intrepidmuseum.org