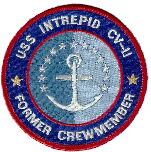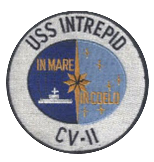 To contact the Webmaster, complete the form above with the information requested. When you've completed the form,click Send.
© Website created by FCM Neal O'Connor exclusively for the USS Intrepid Formr Crew Members Association, Inc. and its members.
Contacting the Webmaster
To contact us with questions or suggestions about this website, please complete the contact form to the right and click Send.
We will only consider Emails that are submitted by Association Members and who also provide a valid Association membership number. Please be sure to include your membership number in your Email.
If you use an Email program installed on your computer such as Microsoft Outlook, an Outlook message window will open allowing you to write your Email message. If you use web-based Email service such as Yahoo, Gmail, etc., the contact form will prompt you to sign- on to your Email service first. After you complete your Email message, click Send.
* NEW SHIP'S PHONE NUMBER *
1-646-389-7822