To contact the Webmaster, visit the 'Contact Us' page and complete the form with the information requested. When completed, click Send.
© Website created by FCM Neal O'Connor exclusively for the USS Intrepid Former Crew Members Association, Inc. and its members.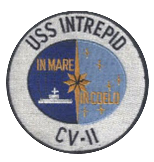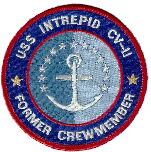 *** ASSOCIATION PROGRAMS ***
USS Intrepid Former Crew Members Association, Inc.
FLAG PROGRAM
The flag program conducted by the Former Crew Members is a means of gaining worldwide visibility for our Organization. The program was formed early in the Organization's founding, and is felt to be instrumental in fostering patriotism in young and old alike by teaching courtesy, respect and dignified handling of The American Flag through example.
Our hallmark is flying the American flags from the mast of the USS Intrepid for sale to the general public. At the present time we fly only 3' x 5' flags for sale. All the flags we fly for sale and presentation include a label and a signed certificate of authenticity verifying the date/time flown. We have been, and will continue to, present Intrepid flown flags to all Fisher Houses following their commissioning. We also fly casket flags, at no charge for the families of fallen active duty members and veterans, upon request.
FCM Association Members can purchase flags from our Ship's Store Price List and orders are fulfilled soon after they are received. Our standard sized flag, 3' x 5', cost $45.00 + $10.00 S&H = Pre-Paid $55.00
FCM Association Non-Members can purchase a flag(s), cost $50.00 + $10.00 S&H = Pre-Paid $60.00
For more information and to arrange for purchase of our 3' x 5' American flag, please contact
FCM Michael Horvath/Chairman
Email: smartusa1@verizon.net
SCHOLARSHIP PROGRAM
In the early 1990's, the Intrepid FCM Association Scholarship Program was initiated to assist children and grandchildren of Former Crew Members with their college tuition. To qualify, students must be May or June High School graduates in the current year and attending a 4-year college or university that following September. Two year Community Colleges, two year Nursing Programs & Vocational or Technical Schools do not qualify for the Scholarship Program.
The essence of this program can be understood in a letter that was received last year from the family of a Former Crew Member. "Dad didn't have a High School diploma he left school to join the Navy but education was important to him. He took several courses throughout his life to improve himself. So, I am sending a check for $500 to be used for the Scholarship Program and I know he would be pleased".
The application process begins on January 1st and ends on June 1st. An association member with current membership in good standing meaning current and previous years dues are paid must sponsor the student and submit the following information before a scholarship application can be sent out:
o FCM Sponsor's Name
o Association Membership Number
o Years Served Aboard Intrepid
o Student Applicant's Full Name
o Student's Home Address
o Student's Contact Phone Number
o Student's Contact E-mail
o Full Name of Student's High School
o Month of HS Graduation
Completed Scholarship Applications along with all required supporting documentation must be received by the Scholarship Chairman no later than June 1st. After a review of all the applicants the scholarship recipients are selected based on their qualifications. The number of scholarship awards are determined by the amount of money collected from our Scholarship Program fundraiser raffle book sales and other donations. Last year 9 scholarships were awarded totaling $9,000. This program has been a great link between Former Crew Members and their children and grandchildren and we look forward to continuing this program for many years. To request a Scholarship Application, please send your request to my e-mail address listed below. Thank you.
Harris Seorti, Scholarship Chairman
hseorti@ussintrepidcv11.org
GOOD and WELFARE PROGRAM
The main activity of our Good and Welfare program is sending sympathy cards to the families of FCM's who have passed away. We get obits from Legacy.com, which scans all the papers nationwide for mention of Intrepid. If that is in the obit, I get a copy and send a card. This informs us of all FCM's who have passed, not just members of the Association. We have been sending about 150 cards per year. In many cases, we receive very touching replies and notes of appreciation from family members. If you know of an FCM who has passed recently, please let me know at w5147956@yahoo.com
We also send Get-Well Cards to FCM's who are ill. The only way we can find out about them is from friends, family or shipmates. If you know of any FCM who is ill, please send his mailing address to w5147956@yahoo.com and we will send a card.
In cooperation with our Flag Program, we have been presenting flags flown from Intrepid's mast to the Fisher Houses. They are always very happy to receive them. Since the houses are spread all over the country, this is a chance for all FCM's to participate in this very meaningful program.
When the situation arises, we also help with support of veterans' programs, such a Wounded Warriors, etc.
Thank you.
FCM Charles Coppess - Chairman
ANNUAL CHRISTMAS PARTY PROGRAM
Wherever USS Intrepid was in port while on deployment at Christmas time, she always put forth the goodness of spirit to have aboard the least fortunate children from the local area to enjoy and be part of the Christmas festivities hosted by Intrepid. In keeping with this tradition, the Former Crew Members Association every year sponsors and hosts a Christmas Party aboard Intrepid for disadvantaged children. Between 50-75 chaperoned children aged 4 to 12 enjoy Christmas time festivities held in the Museum's Allison & Howard Lutnick Theater. During their time at Intrepid, the children are treated to live entertainment, Christmas stories and also enjoy lunch complete with dessert below on the mess deck. Their day of fun & festivities ends with a visit from Santa. Most of the children get to sit on Santa's lap and each child also receives a 'goodie' bag that contain gifts designed for the age group. These 'happy little kids' then return to their outreach organization to await Christmas Day, and hopefully another visit from Santa.
Part of preparing for the annual Christmas Party involves a lot of networking for gift donations to make sure that all the children get an adequate number of toys & other things. We try to change the gift mix up every year so we're not giving out the same items. The gifts we try to acquire include boxed toys, puzzles, children's books, bracelets & rings and a variety of assorted nic nacs.
If any FCM Association member is interested in contributing to, or participating in, the Association's annual Christmas Party, please contact our Program Chairman. Thank you.
FCM Louis Beverly - Chairman