To contact the Webmaster, visit the 'Contact Us' page and complete the form with the information requested. When completed, click Send.
© Website created by FCM Neal O'Connor exclusively for the USS Intrepid Former Crew Members Association, Inc. and its members.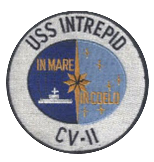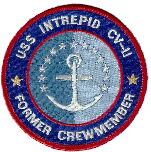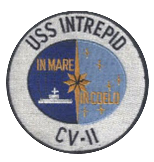 USS Intrepid Former Crew Members Association
*** Board of Directors & Association Officers ***
2023 to 2025
(The Association Officers & Board Members listed below were amended on Saturday, 19 AUGUST 2023)
Board Officers
President: Al Schumacher
1st VP: Aaron Reznick
2nd VP: Louis Beverly
Treasurer: Harris Seorti
Secretary: Anthony Fastaia (acting)


Board Members
Larry Arnold
Gene Austin
Robert Cassara
Chuck Coppess
Robert Dunne, Sr.
Gerald Feola
Stuart Gelband
Mike Hallahan, Sr.
Mark Herskowitz
Michael Horvath
Guy Migliaccio
Dick Mills
Ralph Slane
Louis Smith
Richard Torggler
Marc Wolf
Raymond Zahra

Emeritus
Dr. Kenneth Marshall RIP
Neal O'Connor - Webmaster RIP
Joe Litchauer RIP
Lee Heydolph

Honorary Chaplain
Fr. John R. Sheehan SJ
University of Saint Francis

Association Past Presidents
Years Served Name Years Served on Intrepid
1986-1987 James Blobner 1964-1968
1987-1989 Fred Hemmerich 1961-1964
1989-1991 Al Ribbe 1959-1960
1991-1993 Joe Tetro 1959-1961
1993-1995 Charles Wladyka 1965-1969
1995-1997 Robert Dougherty 1954-1956
1997-1999 Ray Michner 1943-1945
1999-2001 Michael Hallahan, Sr. 1958-1959
2001-2003 Robert Dougherty 1954-1956
2003-2005 John Simonetti 1961-1962
2005-2007 Michael Hallahan, Sr. 1958-1959
2007-2009 Len Hittner 1958-1963
2009-2011 Dick Mills 1960-1962
2011-2013 Robert J. Dunne, Sr. 1970-1973
2013-2015 Joe Litchauer 1960-1962
2015-2017 Robert J. Dunne, Sr. 1970-1973
2017-2019 Robert J. Dunne, Sr. 1970-1973
2019-2023 Stu Gelband 1970-1972
2023-2025 Al Schumacher 1971-1973
The USS Intrepid Association, Inc. Is a tax exempt organization under IRS Code 501 ©(19)